Post by mightyspuds on Oct 22, 2014 20:30:50 GMT -8
Surprisingly good,though you have to eat it with a fork.In my case the anchovies gave it authentic pizza taste.Got a taste for pizza,this will do it WITHOUT Flour.
We made it with purple cauliflower,and you can barely taste the cauliflower in it.
detoxinista.com/2014/02/vegan-cauliflower-pizza-crust/
Ingredients
1 pound cauliflower approximately,we steamed ours first to cook it.
3 tablespoons ground chia or flax seeds, we used flax and ground it up in small Hamilton Beach Blender
6 TBS water
½ cup almond meal made by grinding them in grinder from raw almonds
½ tsp sea salt
½ tsp garlic powder
½ tsp grocery store dried oregano
1/2 tsp onion powder
Instructions
Preheated the oven to 400F
Line a pizza pan with parchment paper.
Grind/pulse the steamed cooked and cooled cauliflower in food processor with the s blade until rice like consistency.Put into a towel and wring out all the juice.
Now mix together 2 TBS of ground flax seeds with 6 tablespoons of water.This makes the vegetable 'egg' that holds it together.Set aside for now to let it thicken.
Place the drained cauliflower in a large bowl, then add in the 'egg' mixture,the almond meal, and add the additional tablespoon a ground flax seeds,sea salt, garlic,onion powder and dried oregano.Mix well with a fork then press into the parchment-lined 12 inch pizza pan.Use your hands to shape onto olive oil sprayed parchment papered lined pan,making it about 1/4 inch thick. Press the crust together firmly,make very level so no thin spots where the crust might break.
Bake at 400F for 30 minutes, until dry and golden brown.
Now we flipped it onto the pizza pan after a spray of olive oil,back into oven for 15 minutes.
The crust should be firm and dry at this point.
Time to add your toppings.Brushed first lightly with pizza sauce .It absorbs it fast,dont over do it.Next add the cheese,go light on it as well.We used purple onion slices,sliced black olive,red bell pepper slices,grated mozzarella and mild cheddar and ground Parmesan cheese.Some pepperoni slices,Mrs added more cheese on top of hers.
Going into the oven at 400F for 30 minutes on parchment pizza.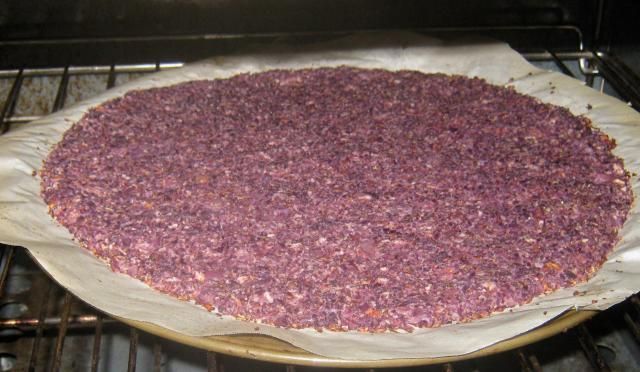 Out of oven and ready to cook other side after it had been flipped,cooked for 15 minutes on the flipped side.
Add the toppings and cooked for 15 minutes,you will get this,mine is the top half.