Post by mightyspuds on Jun 10, 2014 3:18:17 GMT -8
What is Sous-Vide?
www.dorkfood.com/info/What_is_sous_vide_3F
....you heat the food at the desired final temperature - there's no guesswork. For example, if you want to prepare a medium-rare steak (with a center of 130°F) your sous-vide water-bath would be set to 130°F. The result is extremely consistent, whereby the temperature and 'doneness' of the food is exactly the same from the outside to the center - perfect every time.
en.wikipedia.org/wiki/Sous_vide
Sous-vide (/suːˈviːd/; French for "under vacuum")[1] is a method of cooking food sealed in airtight plastic bags in a water bath or in a temperature-controlled water bath environment for longer than normal cooking times—72 hours in some cases—at an accurately regulated temperature much lower than normally used for cooking, typically around 55 °C (131 °F) to 60 °C (140 °F) for meats and higher for vegetables. The intention is to cook the item evenly, ensuring that the inside is properly cooked without overcooking the outside, and retain moisture.
=================================
Why you may ask? A rare steak has an internal temp of 130 degrees.After 2 hours in waterbath remove it,its 130 degrees thru out entire meat,a perfect pink.Sear it in a pan 1 minute per side to chamnge outside color to normal fried/broiled color and you have a PERFECT rare steak.
Or you can take a cheap cut,say a chuck steak,cook 19 hours,and it becomes very tender.But cant overcook,meat will never go above waterbath temp thats set.However,you can spend too much time in waterbath and make texture mushy.
This is my setup.I have a Dorkfood DSV temperature controller (100 dollars US) hooked up to a crockpot with an analog controller.I turn that to HIGH,then plug it into the dorkfood.A temperature probe goes from the DSV to the crockpot.The DSV then cycles the crockpot by turning it off and on frequently,maintaining the waterbath crockpot temp within a half degree of set point on DSV.
You can use a deep fat fryer,turkey roaster,rice cooker,anything that can heat water and doesnt have an electronic control switch on it,they wont work because every time DSV turns off/on,the setting on the water heating device is lost
Crockpot plugged into DSV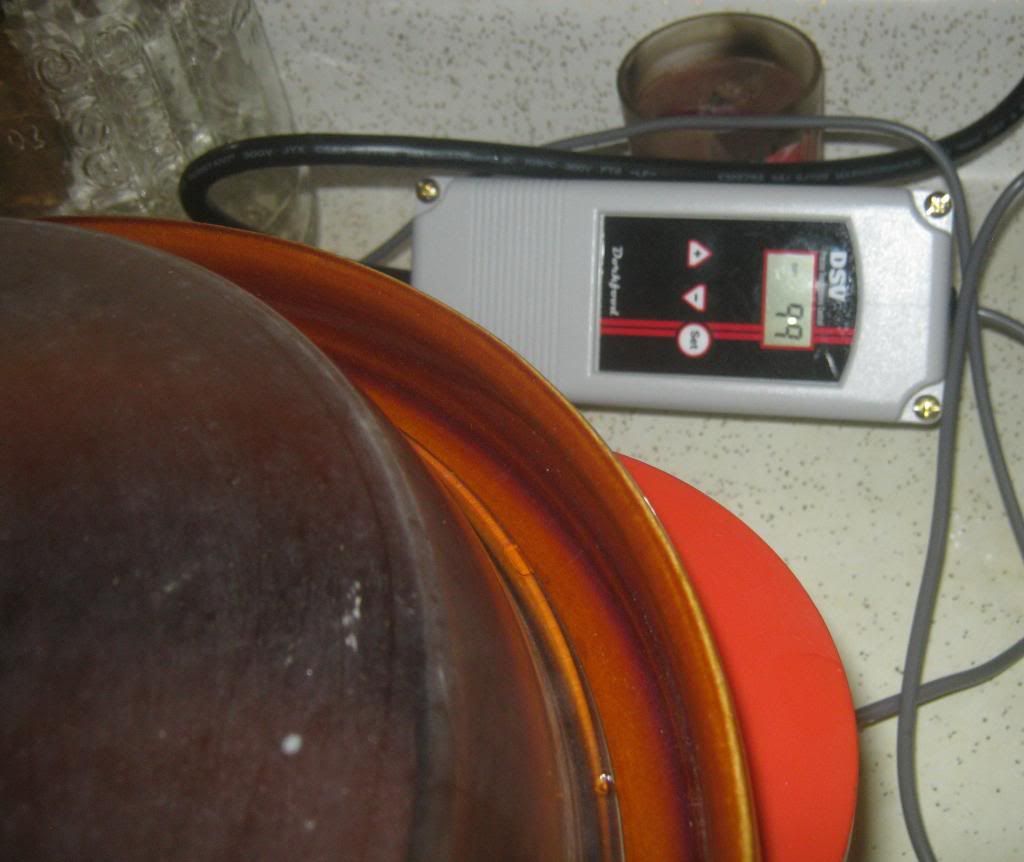 Note analog controller on crockpot.Temp probe from DSV in lid