Post by mightyspuds on May 14, 2014 16:30:05 GMT -8
Got this recipe from Smokin Don at LTBBQ site,the thread is very complete so worth a look to fill in a few pictures I didnt duplicate
www.letstalkbbq.com/index.php?topic=8273.0
----------------------------------------------------
Smokin Don's Spicy Beer Mustard
Ingredients
Makes just over a pint
1/3 cup yellow mustard seeds
1/4 cup brown mustard seeds(No brown here so we used 1/3 black and 2/3rds yellow for our triple batch)
1/2 cup cider vinegar
1 cup dark beer, divided, I used Deschutes Black Butte Porter
3 tablespoons dark brown sugar
2 tablespoons honey
1 teaspoon Kosher salt
1/2 teaspoon turmeric
1/8 teaspoon ground allspice
1 heaping teaspoon of ground yellow mustard(We made a triple batch and only used the 1 teaspoon ground mustard)
In a small bowl, cover yellow and brown mustard seeds with vinegar and 1/2 cup of beer. Cover and place in the refrigerator overnight.
In a small saucepan, mix together remaining ½ cup of beer, sugar, honey, salt, turmeric, and allspice. Bring to a boil and remove from the heat to cool.
In the jar of a blender add mustard seeds with their soaking liquid and cooled mixture from saucepan. Puree until smooth or coarse as you prefer. Transfer to an airtight container and refrigerate overnight before using.
OK,thats basically Dons version that we tweaked a little from the LTBBQ site.
----------------------------------------------
These are the seeds after the soak.A 3X batch. I didnt have brown,so for the brown substituted 1/3rd black,2/3rd yellow.Also only used 1 tsp mustard powder,for first tries we always go a little light on spices.
Ground up and ready,we used Deschutes Black Butte Porter beer. Heated back up to make a hot pack for the waterbath canning,using 1/2 pint jars.
Canning supplies all ready...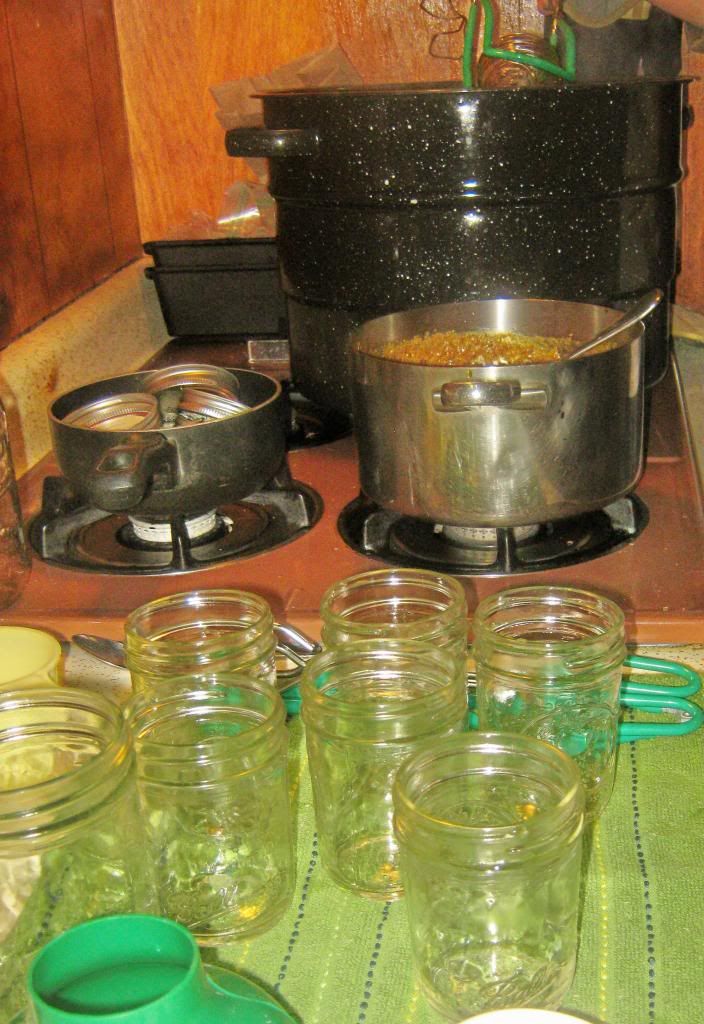 Came out great.All jars sealed,1/4 inch headspace on jars and processed for 15 minutes,YOUR TIMES MAY VARY,use what is recommended for your situation.This works for us from what I read at canning sites.6 half pints to store,a half jar into refrigerator.VERY nice!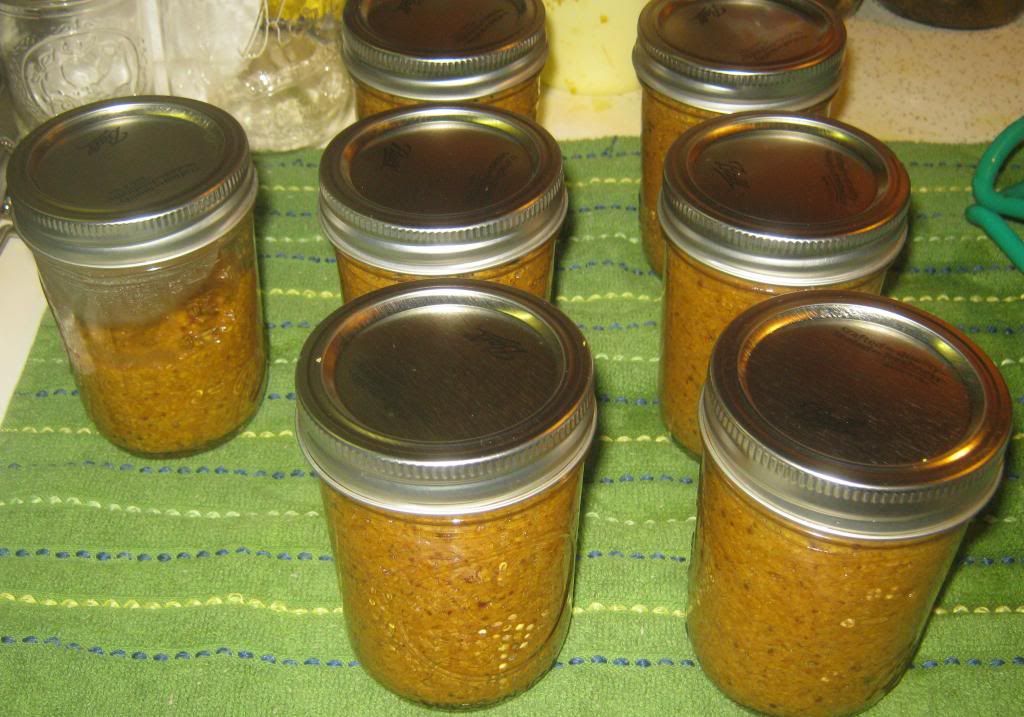 Makes a beautiful jar,and tastes great already,cant wait til it mellows a while.Some of this will be gifted to family.
This is super easy and tastes Great!