Post by mightyspuds on May 8, 2012 2:14:02 GMT -8
OK,got this off the web...We made a triple amount.
=====================
Der Wienerschnitzel Chili Sauce
This is Top Secret Recipe's version of Der Wienerschnitzel's Chili Sauce. DW is a chain of fast food hot dog joints.
6 Cups (change servings and units)
This is Der wienerschnitzel chili recipe:
Ingredients
3/4 lb ground beef
1/4 lb ground pork
6 cups water
1/4 cup cornstarch
1/2 cup Wondra Flour
1 (6 ounce) can tomato paste
1/4 cup chili powder (McCormick)
3 tablespoons white vinegar
1 tablespoon salt
1 tablespoon dried onion flakes
1 1/2 teaspoons granulated sugar
1/4 teaspoon garlic powder
1/4 teaspoon ground black pepper
Directions
Brown ground beef and ground pork in a large saucepan over medium heat, making sure that the meat is well crumbled.
When the meat is completely browned cover saucepan and turn heat to low.
After ten minutes, remove the ground meat from the heat and drain off most of the fat.
Keep some of it in the pan.
While the meat is still off the heat, mix the water and the cornstarch.
Whisk the cornstarch thoroughly as it's added until it's dissolved into the water.
Do the same for the Wondra flour.
Add water mixture to the pan.
You can now set the pan over medium heat and add the remaining ingredients.
Bring mixture to a boil stirring often.
When chili begins to boil, reduce heat and simmer for 30 minutes.
When chili is done it will be much thicker and darker, like the real thing.
You can use this chili sauce on hot dogs, hamburgers, french fries or take it solo.
NOTE: Wondra flour is a finely-ground quick-mixing flour used in sauces and gravies.
It is made by Gold Medal and can usually be found in the baking aisle next to the other flour.
Source(s):
===================
Ingredients
Ground and browned meat and drained off most of the fat....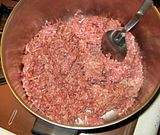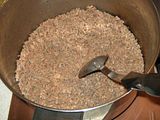 Whisk the flour and cornstarch...
All the ingredients in....heat to boil,and simmer for 30 minutes...
Pressure canned at 15 pounds (5000 foot elevation here) for 90 minutes.Use meat canning times temps for your elevation.
We got 5 quarts and 4 pints...The shiny particles are fat that hasnt settled yet.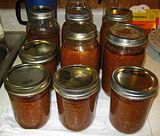 Use about 2 TBS sauce for each dog.It isnt a thick sauce,kind of thin that soaks into the buns.If you know Der Wienerschnitzel you will like this,almost identical,very very good!
You can also just put chili in bowl,add onions and cheese,yumm!!