Post by mightyspuds on Oct 12, 2010 10:58:46 GMT -8
Meal #1
2 lbs Round roast,baked in oven with mashed potato,gravy and corn
This is the leftover 2 days later...
======================================================
Meal#2
Today its stew using Kims (mostly) famous stew recipe
3 carrots sliced,1 large onion chopped,8 small potatoes chunked,into a pan and boiled until JUST starting to get tender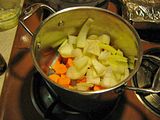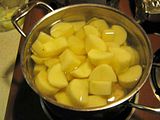 Next transferred to slow cooker...
Add 2 packages gravy mix,about 3/4 lb chunks of leftover roast,A can each with fluid discarded of corn,green beans and peas and let it slow cook,saved veggie juice in case I need more fluid later...
Link to rolls...
eastcherokee.proboards.com/index.cgi?board=baking&action=display&thread=1920
Just used the standard white bread machine recipe
Divide 3 cup loaf into 8 balls,use 7
Rise about 1 hour until top of pan,into oven
Baked at 375F for 30 minutes until browned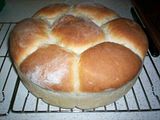 Beauty,eh?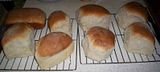 Here's dinner,and boy was that filling!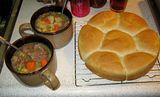 ====================================================
Meal #3-Tacos...can be prepared ahead of meal time
Yep,its that roast again,about 1/2 pound or so.Shredded,1/2 large chopped onion (rest saved for condiment),1 tsp dried cilantro (can use fresh chopped),A little salad seasoning that has red and black pepper,little salt,tiny bit of celery seed,little hint of garlic.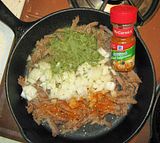 Added a little juice from the roast and slowly simmered about 1/2 hour to cook onions and incorporate spices
Now the shells.This is important,they will make or break the dish.
These are 6 inch corn tortillas.They can be bought in large packs of several dozen then frozen 6-12 per baggie,they freeze very well.In microwave heat them 20-50 seconds,just enough that they almost come apart,then bend gently back and forth and they will come apart without being over cooked in micro,dont want that.
Separate and let thaw until no visible moisture on them,couple minutes.
Heat about 1/2 inch of veggie oil in pan about 1/3rd flame height.When oil hot drop in a shell.Shell may try to separate,so with spatula flatten it down for about 20 seconds...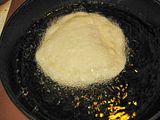 Now place spatula edge on middle of shell and with a utensil fold shell half over spatula.Hold 5-20 seconds until shell stays folded.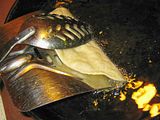 Cook about 45 seconds,slowly moving it about pan to get hot oil on inside and outside of side being cooked...Flip it,re insert spatula and keeping shell spread open about 1 or 1.5 inches wide stir it around too.
This shell not quite done.Second shell is perfect,when it can support the open end by itself its done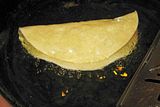 Shells should be cooked to where they arent chewy,nor should they be brittle,just a light yellow color...NOT brown,then they are seriously overcooked,ie,tortilla chips,not what we want.As they cool they will be slightly pliable yet they can be cracked.
I let each drain a minute or so open end down on plate then stack em just to have room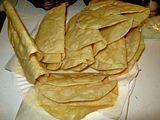 Now prepare the condiments.We will use chopped onions,shredded lettuce,chopped tomatoes,shredded cheddar cheese (Note to self,go to thrift store and find another salad shooter,grating cheese not fun)
Optional is a bit of sour cream and hot sauce be it red or green,mild or hot,your choice.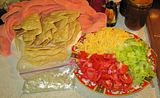 Not too shabby! 9:30 AM and cooking for dinner is done.
Reheat meat and shells in microwave,add condiments....Dinner is done!
=====================================================
Hey ,there's even a Meal #4,roast drippings on the dogs' dry food,YUMM!