Post by mightyspuds on Jan 7, 2010 19:16:52 GMT -8
This was done with the All American Canner at 5000 foot level so my pressure is 15 pounds.Check your canner for proper usage and Google or use RECENT recipe books for proper cooking times for your situation.
With this canner after loading jars and clamping lid you let it steam out the vent for 7-8 minutes to remove all air,then add the pressure weight.When it starts to jiggle you start timing the cooking,1 to 4 jiggles per minute in my case.Note gauge says 14 pounds,its 15,the weight makes the correct pressure while the gauge can be a couple pounds off.
Let product cool in canner,dont do anything to hasten cooling,takes about 20 minutes for pressure to release fully to zero,then pressure weight is removed and when steam is no longer coming out the lid can be removed.
Again,use the instructions for YOUR canner and cooking times for your altitude,they may be different from mine.
This is surprisingly easy,takes a long time but actual work time isnt much at all,do other things while it cooks.Just dont leave it unattended.
-------------------------------------------------------------------
We will start with Turkey soup.
I Pressure cooked the 14 pound bird at 15 lbs for 90 minutes...
Chopped up some veggies....
Added veggies to the Turkey Broth,I added 2 cans of 14 ounce
each tomatoes also....
De-boned the Turkey....
Poured all into another pan,cleaned up Pressure Canner while cooking soup about 30 minutes.When done I skimmed off the grease....
Took the breast meat and put in clean washed jar and added broth to the level of threads on jar....
Did same with soup,leaving a 1 inch headspace,wiped jar rim with a clean napkin then put on a hot boiled lid snugly but not super tight,jar has to be able to breathe.Tamped product inside jar with wooden spoon to remove bubbles....
Then into the canner with 2 inches hot water and cooked for 75 minutes at 15 pounds pressure....
The finished product removed from canner after it has cooled and ALL pressure released before opening canner,lid rings removed after its cooled and lid has made the famous POP! sound,signifying its sealed....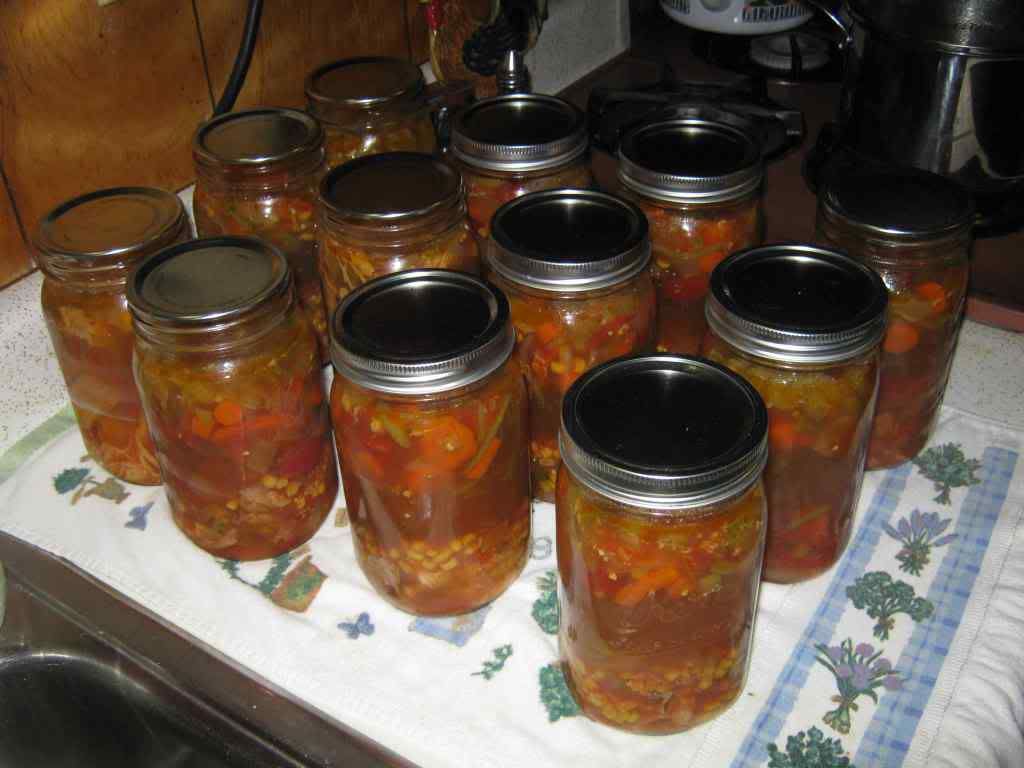 ----------------------------------------------
Now for Green Beans....
Clean the beans and chop to size and boil for five minutes only...
Into clean jars,add almost boiling water to the thread level on jars and run wooden spoon inside to remove air bubbles...
Prepare jars by wiping rim and putting on hot lid snugly and pressure can for 30 minutes at 15 pounds and this is finished product after canner has COMPLETELY cooled and zero pressure and jars removed...
--------------------------
Potatoes....
Clean and chop,I left them in cool water while preparing them all,takes about 1 pound per quart...
I rinsed them about 4 times to get starch off,you can omit this step,then added hot water to sink,into clean jars,wipe rim after the bubble removal,add hot lid and into canner and cooked for 40 minutes at 15 pounds...
This is the final product...
----------------------------------
Now for meat.I used Chuck Roast and hear chuck is the ideal beef to can.I had a little problem with this.I cooked it first in boiling water,then I packed it loosely.Came out overcooked,heard putting chunks in RAW,and rather closely packed is better....
Boiled up meat and into jars,leaving 1 inch headspace after broth put in,remove bubbles and wipe rim and apply lids like above....
Into canner at 15 pounds pressure for 90 minutes,cool and remove,this is final product.Lots of grease,guess I could have done better skimming and trimming beef of fat....
---------------------------------------
Inspected,Tested and Approved by Girl....