Post by mightyspuds on Nov 27, 2008 9:44:16 GMT -8
This is a 17 pound Turkey.We will cook it until 170 degrees F. in thickest part of breast,and stuffing at least 160 F. Make sure when taking temps you are in center of meat and NOT on a bone.
First we brine the turkey.Best to do for 12-24 hours.Turkey was defrosted in refrigerator over a week!Cold refer I guess,LOL.
Brine is filtered water and ice cubes,a little bit of NON iodized salt (regular salt doesnt dissolve quite as well is all,you can still use it),a cup or less in this case,and 2 cups sugar..Just enough salt to make a slight salty taste is all you need or you will get a salty bird.
We used up the rest of the garlic head,about 5 cloves.Ive seen a whole head used on the 'net,they just cut the whole head in half on the side,leaving cloves intact in bunch.The sugar is a first for us,supposed to mellow the flavors,we shall see...
This is the broth for the gravy.Boil up the neck and all the parts packed inside bird,rinse them first,add a small onion and a few celery stalks chopped up.That is a 2 quart saucepan.Let lightly boil for a couple hours,we want maximum flavor here...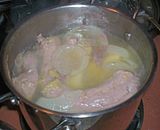 Remove neck bones and puree stock and set aside for use in gravy later.Yes,it looks horrid right now,have faith...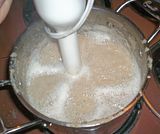 Chop 1/2 stalk celery,one large onion.They will be a bit crunchy when done,if you want them soft in your stuffing fry in a pan with a little butter until soft....
Add 2 cups of spiced croûtons,these are my wheat bread/zucchini that I made...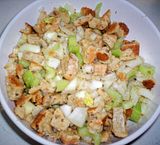 Whipped 1/2 pound soft butter with fork,add 2 heaping teaspoons celery powder,1 heaping teaspoon onion powder, 3/4 teaspoon chopped garlic.Back into refer to be rubbed on bird when bird is brined...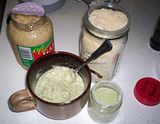 Rinse bird and into pan.Heat butter mix in micro until soft.Coat entire inside of bird.
Gently separate skin from bird but leave it intact.Butter copiously under skin...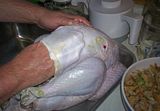 Butter copiously the entire outside of bird,top,sides and bottom and fill with stuffing.Pack in well but not super tight.You can let extra poof out into space between legs.If you like it can also be a thin layer under skin too...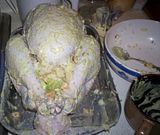 Into the 325 degree oven...
1 hr cooked...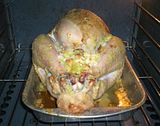 2 hours cooked.Starting to baste it with juices,added a cup of water to bottom of pan,needed more juice.Tin foil tents over ends of legs and Breast as those areas are browning faster than rest of bird.Tent slows down browning.Stuffing is only at 110 degrees so we have a ways to go yet...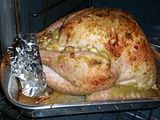 3 hours cooked. Baste every half hour.Now using a tent of aluminum over entire bird to slow down browning.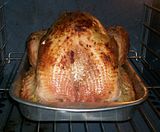 4 hours cooking.Tented bird and various temps recorded in various parts of bird.
Cooking at 375 F. now.
Will take out in a half hour.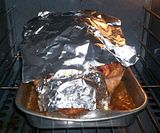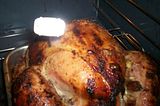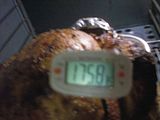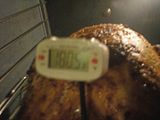 4.5 hours later,turkey is done,temps in 165 to 180 range,thats well cooked.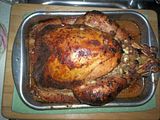 We will take out drippings from pan,put in gravy separator and add to stock.Its a little thin so we add a teaspoon of flour to cold water and mix,and slowly pour into heating gravy,stirring constantly.Add whatever it takes to get consistency you like...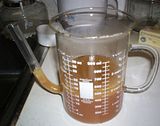 Now stir in a little Gravy Master for coloring,this took 2 Tablespoons...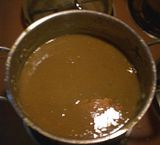 Cut off breast and leg,and slice. A couple pieces look pink in picture,but they arent,its camera.Pink meat is undercooked meat!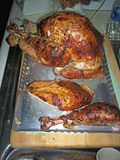 Your Turkey Dinner is served!