Post by mightyspuds on Jul 24, 2008 4:48:18 GMT -8
This will enable you to make a high powered generic sized NiMh battery pack for a device that has a socket to plug in an external charger,using AA Nimh batteries that are high powered and very rechargeable batteries.This can greatly extend run time on low powered battery using devices.
Just use the holder and cable from wall wart that matches your needs,for example,if you need a 4.8 volt pack you would use a 4 AA case.
AA NiMh battery is 1.2 volts so you would with a SERIES wired case have 4.8 volt pack.
AA Alkaline battery is 1.5 volts so with a 4 battery SERIES wired case you would have a 6 volt pack.
Cases are cheap,1.59 here, and come in many sizes as forms...
www.batteryspace.com/index.asp?PageAction=VIEWPROD&ProdID=2092
Click to enlarge thumbnails
---------------------------------------------------
The Sony has a powerpack that plugs into wall and puts out 8.4 volts.I thought why not make an external Battery pack to compensate for crummy Li-Ion battery it has? Saw someone on the web did it.
As it turns out the actual battery is 7.2 volts,the charger/wall plug is 8.4
6 of my AA rechargeable batteries = 7.2 volts,they are 1.2 volts each.
The charger/wall power unit has a goofy Sony only pin.
Today at thrift store I found a Sony charger.Plus I found a battery holder that holds 6 AA batteries.Go figure,the battery holder is a Sony product that goes to who knows what.So it even matches my Video Camera!
I cut the wire from the wall charger that plugs into camera.I drilled a hole in bottom of battery pack and ran that wire in.
I soldered those wires to the output pins on battery holder.
The wire with the white stripe on it is the negative wire.
Make SURE your cable is wired correctly to pos/neg.Im not sure if the white line is universally negative.
Then I made a pile of epoxy and slathered it over the new wires in battery holder to keep wires from flexing at the solder joints.
Then I installed the batteries,closed the case and plugged into my camera.The camera cant tell the difference from charger power or NiMh battery power.
Now I have a rechargeable battery pack,just remove the AA's and put on charger when needed.
Plus the cameras' proprietary Li-Ion battery runs about 15-35 dollars depending on size. The Camera battery I have is 7.2 volts at 700 ma.
My battery pack is 7.2 volts at 2000 ma or three times the output,or a good 3 hours of recording on video camera.
And from now on I only need AA batteries,not a special battery from Sony or elsewhere that ONLY works for the camera.
This is the inside of battery pack with the wires soldered and the epoxy over wires drying...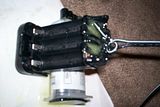 What the whole pack looks like....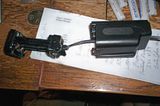 Batteries in holders,it holds 6, 3 per side...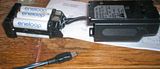 Close battery pack,plug into camera and take picture of Spuds.It isnt really plugged in in this pic,the epoxy is still drying.But I did test it when soldered and it works like a charm!
There it is,my 3 times more powerful battery made from 3 dollars worth of thrift store parts.
I just put the pack in my pants pocket as the cable is plenty long to reach camera in use.
Is that cool or what?!
.............