Post by mightyspuds on Jul 19, 2008 19:54:59 GMT -8
I put my little solar charger out today and it fits the cell phone and I charged it up.Now Ive got 4 AA batts being charged. They are 2500 ma/hr batts,thats a big amt. of power.The charger puts out 500 ma/hr,so its 5 hours per battery,should take 2-4 days to charge them but thats OK,as I say those are high capacity batteries.
Also I can plug in the VW solar panels,they are 3.2 watts and as cheap as 25-50 dollars on ebay(3.2 or 5 watt),into the Brunton charger.To increase capacity.The Brunton (110-140 dollars) is 4.4 watts,can handle about 14 watts total with the extra panels,has a 12 volt automobile type socket to plug in more panels.So someday,when the money starts coming in again I will get me 2-3 of those VW panels.
I bought the Brunton because its tip top quality.
The innovative SolarPort 4.4 offers an energy alternative to keep your cell phone running, your GPS tracking and your digital camera recording images. SolarPort 4.4 allows you to charge electronics via USB, and its durability is unprecedented. Take advantage our cable-free 12 volt connection in the hinge, and link up to three units together to increase power output. Lightweight but sturdy, our SolarPort 4.4 watts could mean the difference between a life saving phone call or a dead battery. Use the included Batt-Jack Rapid Charger to juice-up your AA and AAA rechargeable batteries away from home.
Features: Brunton SolarPort 4.4
* Dimensions: 9.3" x 6" x 1.5"
* Weight: 19 oz.
* Max output: 4.4 watts (265mA @ 12V position and 530mA @ 6V position)
* Includes BattJack AA/AAA battery charger
* Polycrystalline solar panel construction
* Reverse flow protection
* 6V / 12V depending upon the position of the voltage selection switch
* USB output (5V 500mA) · Vehicle outlet in the hinge
* 20" extendable power cable with an exchangeable adapter plug in hinge
* Link up to three units together for even more output
* Designed for small electronics like PDAs, GPS units, cell phones and digital cameras
BattJack
AC & DC source battery charger
by Brunton (BATTJACK)
The BattJack is the answer to packing even lighter, yet still stowing all the power your high tech toys require.
The BattJack is a smart charger that works hand-in-hand with the SolarPort 4.4 to recharge your 'AA' or 'AAA' NiMH and NiCad batteries. This unit can also be utilized at home with AC wall transformer (included) or in a vehicle with 12V DC cable (included).
-------------------------------------------------
VW solar panels from ebay...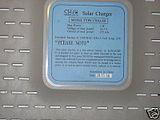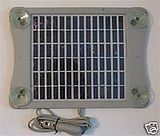 The specifications are:
Max Power 5W
Voltage At Max Power 18.8V
Current At Max Power 275mA
Electrical Ratings at 1000W/m2, AM 1.5 cell temp 25c
....................