Post by mightyspuds on Apr 29, 2008 1:24:47 GMT -8
You know whats really frustrating? Its the Rav-4 electric.A REAL car,with Real freeway speeds and a REAL 140 mile range (Wish I could find that article of the guy who documented every trip in it).There are Ravs out there with 150,000 miles and the batteries are as good as ever.
Any driver could get 100 mile range.And a little known secret was the power gauge actually had 2 more bars,not shown,yet this guy at JUST 100% SOC (state of charge) got this..He still had 2 hidden bars of power remaining.
"My range record (and I don't try for max range very often!) per charge was accomplished 08.21.05. I drove 133 miles on 100% SOC. Two people in the car, plus the portable charger in back. Twisty, hilly drive with many stops at the beginning and end. Heavy AC use for one full leg of the two-way trip. Final score: 191 Wh/mile consumed = 5.2 miles per KWh = range of 133 miles = 25.9kWh pack. (To calculate pack capacity: multiply kWh consumed by 100, and divide that by percentage of SOC consumed. The longer the trip the more accurate this will be)."
Toyota specs called it 125 mile range and 78 mph top speed.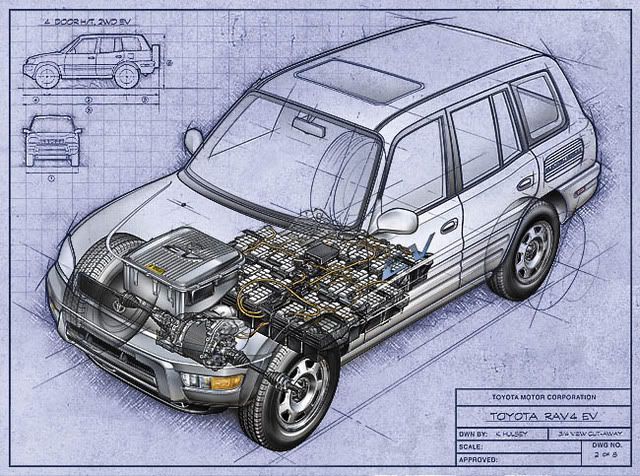 Some owners
evnut.com/
Then the large sized NiMh battery rights got sold to the oil company.You cant buy that battery (EV-95) now!
Now,almost ten years later,we are getting an electric,the Volt,with a 40 mile range.
And lets see if the Volt,with its limited electric range doesnt set back electrics for another decade.
Too much politics involved.The oil companies wont stand for a car that doesnt use gas,and the auto companies wont stand for a car that doesnt have thousands of expensive parts that break down,wear out or are expensive to maintain.
Say what you will,the shenanigans between GM and Texaco,later Chevron,to shelve the EV-95 battery,has given us,a decade later, a car (the Volt) with 1/3rd the range and 1/3 the projected longevity available on the Rav-4.
Absolutely criminal,IMO,that a battery developed with public funding (the U.S. Government spent $1.5B of taxpayer money to the Big 3 U.S. Automakers to subsidize the 80MPG "Supercar" project ) given to the automakers,became GM property,and later Chevron property.
Friends in high places=no viable escape from the ICE/Oil monopoly.
__________________