Post by mightyspuds on Apr 15, 2007 1:26:14 GMT -8
I just started experimenting with sprouts.Done mung beans in a jar, and alfalfa (yum) and wheatgrass Im feeding to the chickens.A couple pics.
This is starting mung beans.Soaked in water 12 hours,then drained.The jar is a sprouting jar and that green lid has a stainless steel mesh top,so you can can rinse them and drain out the water. You could take a Mason jar and put a nylon stocking on the lid held with a rubber band and have the same thing.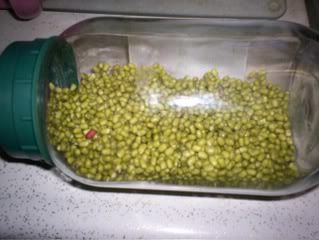 After 5 days they are done.I flushed them with fresh water 3 times a day and moist at all times.Drain well after rinse.This pic is after Ive taken half out already,they grow fast! Very good!

Alfalfa and grass seeds on tray from the dehydrator with coffee filters to keep seeds in as they are draining .Watered them a couple times per day,soaked these 12 hours too at start
This is the alfalfa after a week,about 2 inches tall,very good eating!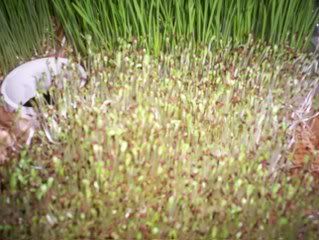 This is the grass after a week. 5-6 inches tall or so.Cant eat it (you could in the early stages before it got like a blade of grass),hear it can be made into juice with a special juicer.It is chicken treat supreme.I had a chicken sitting on my knee for this treat,it was a first!
Ok,lets go step by step for alfalfa.
Start with a tomato container you got at store,about 3 inches high.You can see it has holes about pencil size in top,same on bottom.
Now we put a coffee filter in bottom,so these teeny seeds cant get out.Wet it good and mold it to container and up sides a bit,so seeds cant float out.The reflection on bottom sort of hides the fact that the bottom is fully covered inside.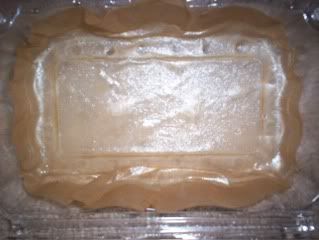 Next,sprinkle a layer of seeds inside,completely covering bottom a layer thick.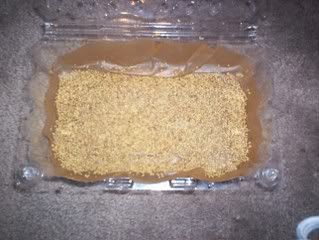 Now we need a pan with about an eighth inch filled with water.
We will put the alfalfa container into the pan,to soak the seeds from the bottom up ,so they are now floating in an eighth inch of water in their plastic tomato tub.I then spritzed them with a water bottle mist to wet the tops so the seeds sink and are covered with water.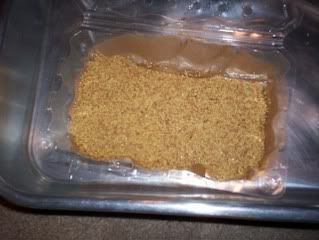 Thats it for setup,we will let them soak until tomorrow,about 12 hours,and go from there.These better work,doing it live here......
Day 2- Remove the alfalfa container.You can now just place it back in the pan with water 2-3 times a day to wet and rinse the seeds,place long enough to wet (less than a minute,mine are soaked in ten seconds even),drain over sink.Keep it moist,dont ever let it dry out.Im placing mine on a plate with a moist paper towel to keep moist.I evened out the seeds in the container.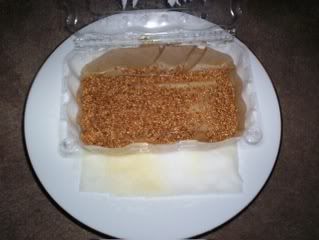 Day 3-Nothing exciting,seeds are now soft to touch and have slightly increased in size.Little white sprouts coming out.Too small for my camera though.
Day 4-Ive been misting them with the spray bottle a few times a day.Now that they are getting tangled together I think tomorrow I will go back to rinsing them to keep them as clean as possible,ie,molds or such.Sorry closeup isnt better.
Day 5-No pic today,not much going on change wise.Im back to rinsing them under a trickle flow of water from faucet.
Day 6-Getting green,they are 1.5 to 2 inches long today
Day 7-As tall as bottom part of container,greening up and really starting to fill container,starting to crowd in,a good thing.
I went back and removed the coffee filter,threw it out and really rinsed sprouts good,got as many unsprouted seeds out as possible.Then put sprouts back in cleaned container.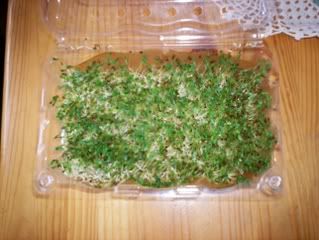 Day 10-Looks like its done.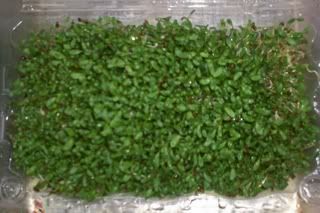 Spuds