Post by mightyspuds on Oct 3, 2007 6:13:56 GMT -8
Speaking of using dried tomatoes,Im going to have to try this,looks great!
-------------------------------------------------------------------------------------
Mediterranean pasta bedded on dried roma tomatoes!
People often ask if all I eat is pasta. While this is hardly true, I do indulge in it quite a bit.
With it being so diverse, delicious and filling, it's often a favorite for a meal.
Here is a simple, but gourmet way to enjoy pasta that is a step away from the every day norm.
It's a two parter. Part 1 will need to be completed long before part two. If you want this as a dinner, you will probably need to do part 1 in the morning or early afternoon,
or ideally, the night before.
You will need:
Penne pasta
1 jar of artichoke hearts
2 roasted red peppers - sliced
15 or so sun dried tomatoes
20-25 kalamata olives
6-8 Roma tomatoes
onions
garlic
crushed red peppers
rosemary
2 cups of olive oil
Part 1
Set your oven to 300 degrees.
In an oven-friendly dish, pour 2 cups of olive oil and add about 8 cloves of garlic.
Sprinkle in a tiny bit of rosemary and crushed red peppers.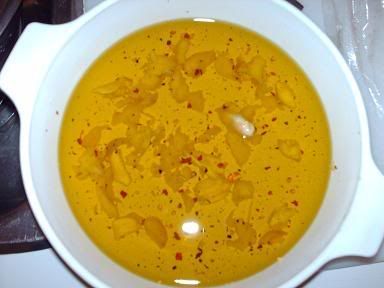 Put this mixture in your oven for about forty-five minutes, until the garlic is a rich brown roasted colour.
This is infusing the oil with the garlic and spices giving you a delicious result.
Remove the oil and let it cool.
With a slotted spoon, remove the cloves of garlic from your oil. Do whatever you want with them.
Turn back your oven to 175-200 degrees.
Take your roma tomatoes and slice then in half. Line them face up on a baking sheet.
Grind some sea salt and mixed peppers over them.
Put the baking sheet in your oven for about 3 hours. You want to keep the heat low.
This is essentially dehydrating the tomatoes, not cooking them.
While this is happening, put your oil in a container in the fridge so it can cool down.
When three hours or so pass, the tomatoes should be nice and dry and the aroma of them will be filling your kitchen.
Remove them from the oven and let them cool for a few minutes.
Then add them to your oil mixture in the fridge. Make sure the oil covers all tomatoes.
This re hydrates them and blends the flavours of the oil into the tomatoes that will end in a rich, delicious tomato, bursting on your taste buds.
Part one is now finished. You want these tomatoes to sit in the oil for a good 3 hours.
Part Two
Boil enough water for your pasta.
In a deep pan, add a dash of olive oil. Add a few diced pieces of garlic and onions.
Cook them on a medium to low heat.
Cube your artichoke hearts, slice your sun dried tomatoes in half, and take the pits out of your kalamata olives (just squeeze them from the larger end so the pit pops out the other).
Add the artichoke hearts, sun dried tomatoes, sliced roasted red peppers and kalamata olives to the pan. Let them all cook together on a low heat. You can crack some salt and pepper over them if you like, but the natural flavours of all of these ingredients are strong enough to hold up on their own.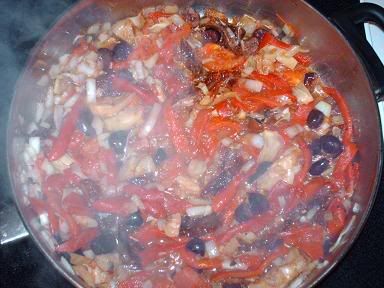 While your vegetables are cooking, cook your pasta in the boiling water.
Also, get your roma tomatoes and oil. Remove the tomato halves from the oil and pat them dry with some paper towel. Set them up around the edge of your plate or in the middle, like a bed.
Once your vegetables are almost cooked, add about a third of a cup of the oil you had the tomatoes in.
Stir it all together until it heats up and the flavours of the vegetables blend with the oil
When your pasta is cooked, strain it and pour it back into the pot.
Pour everything from the vegetable pan into your pasta pot and toss it all together.
The oil that you poured into the vegetables should coat the pasta nicely, but not in an intrusive fashion.
Plate the pasta, serving it on top of the roma tomatoes and enjoy!
Labels: Mediterranean Pasta