Post by mightyspuds on Oct 2, 2007 6:34:14 GMT -8
How the Earthship manages sewage...............................
Earthships treat all sewage on site, sustainably and is healthy for the environment
We must become more aware of where our sewage goes.
Sewage: Earthships contain use and reuse all household sewage in indoor and outdoor treatment cells resulting in food production and landscaping with no pollution of aquifers. Toilets flush with greywater that does not smell.

Containment, Treatment & Distribution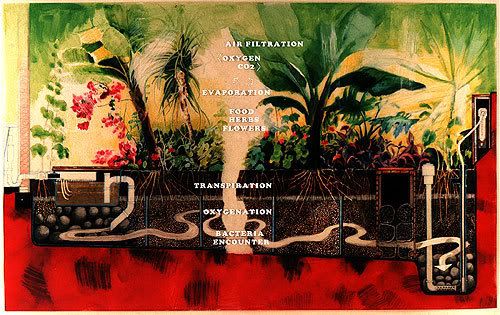 The concept used for containment, treatment and distribution of sewage-water is based on and draws information from the wetlands concept which has long been used in exterior applications for thousands of years by humans and nature.
The Earthship sewage system differs from the wetlands approach in that it primarily treats the greywater inside the building and the sewage from the toilet outside of the building, both in smaller areas. Greywater is the used water after all receptacles except the toilet.
All household sewage is used & reused in the interior and exterior planters, called botanical cells.
Use & Re-use
Water is used to carry away our household sewage in a conventional way such as bathing, washing dishes and for the toilet. The sewage-water, also called greywater, is used and cleaned for a second time in interior botanical cells. The flush toilet is the third use of the water. After the toilet, the water is contained and treated, and used a fourth time in exterior botanical cells.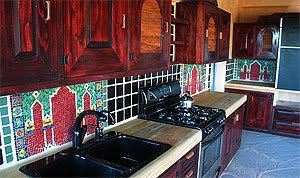 Interior Botanical Cell
The Earthship greywater system has been researched and developed by Earthship Biotecture for over 20 years. This system allows for the need of far less water than is conventionally assumed.
Exterior Botanical Cell

The effort to contain the outdoor system rather than letting it leach into the earth is much more realistic and manageable because of its lower volume. It should also be noted that one or many more contained cells can be added to the outdoor system if necessary. This simply adds to the controlled landscaping of the home.
The objective is to eliminate the need for public sewage systems and un-contained septic systems that pollute the earth, while getting multiple uses out of all water collected in the catchwater systems.
For the purpose of satisfying convention, the Earthship Sewage system is set up (via valving) to flow entirely into the conventional septic tank and on to a conventional leach-field. The Earthship water system is not, therefore, in place of but in addition to convention.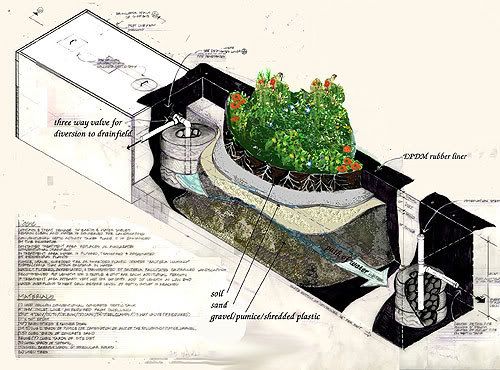 The path of WASTE water in an Earthship:
* After water is used in sinks, showers and bat-tubs, it then drains into linear biologically developed interior greywater treatment and containment systems (grey water planters).
* Clean looking (but not drinkable) water is piped to flush the toilet (toilets) with.
* Next the water goes outside to a conventional septic tank that is solar heated with a glazed south side to enhance the anaerobic process. This unit functions like a regular septic tank (only better) with a line out to a conventional leach-field.
* We add a preferred but optional line out that goes in to rubber lined exterior botanical cell(s) (size and quantity varies) that are constructed very similar to the interior greywater treatment and containment planter. This facilitates total containment of remaining effluent and directs its use toward exterior landscaping. After this use the water again tests below measurable nitrate levels
Also available are dry, Solar Toilets. These act like composting toilets, but they admit the sun to increase effectiveness. Construction drawings are available.
We live in a time when many parts of our planet are experiencing water shortages. The volume of water on this planet is finite while human population increases. As we gauge the depletion of our aquifers and the increase in population, we are able to predict serious water shortages in the near future.
We must begin now... learning to harvest water in each individual home. We must use this water many times before putting it back into the earth. When we do put it back, it must be in a form that works with existing nurturing forces and phenomena of the earth.
To further compound the water problem on this planet, we have polluted and contaminated most of our easily accessible surface waters and are beginning to contaminate the more difficult to access aquifers beneath the surface of the our planet. This contamination happens because of the way conventional sewage systems operate.
Facing the Facts
* If there are energy shortages, individuals will have water problems.
* If there is ecological damage, individuals will have water problems.
* If there are economic crisis, individuals will have water problems.
* If there are computer glitches, individuals will have water problems.
* If there is political turmoil, individuals will have water problems.
* If there is war, individuals will have water problems.
Almost anything that happens in the future can result in questionable availability of fresh water. This is not just an environmental problem. The continued pollution of the atmosphere, the surface and subsurface of the earth is not the only cause for alarm about availability of fresh water. Water availability to individuals is dependent on every other social system being in place, stable, health and at peace. It is inevitable that we will experience failure of one or more of these systems at some point in the future.
We are simply adapting our needs to the already existing activities of the planet.
Why pipe water long distances from a centralized community water system, or from an expensive well that needs significant electrical power, depletes aquifers and lowers the water table, when water fall from the sky?
Why have a corporate or political "middle man" between us and our energy needs? our vessel (home) must be designed to sail with the forces that exist beyond human control and exploitation.
An understanding of mechanical systems for most humans is limited to what is within reach of their fingertips. It is understood that when you flip a switch on the wall, a light comes on. when you turn on the faucet, hot water comes out. When you pull the handle on the toilet, it flushes. Little though is given to where the electricity comes from or what kind of nuclear waste was produced to generate it. how many of us even know where the power plant is that supplies our power. Few people ever wonder which water table is depleted to bring them water and what chemicals have been added to it. Where does the sewage go after it is flushed and which rivers and lakes are polluted by it?
Humans need comfortable temperatures, light, electricity, hot water, food, sewage treatment, etc. These necessities are all available within the framework of a certain "rhythm" in the Earthship. The more we are able to align our priorities and needs with the prevailing rhythms of the planet, the easier and less expensive (both in terms of economics and ecology) they will be to obtain.
If our lifestyles can conform more to the patterns of the planet than to our socioeconomic system, we can reduce the stress on both ourselves and the planet. This is easier said than done due to the "reality" and the "gravity" of mortgage payments, utility bills and the generally high cost of eating and living. Most of us have no choice. We have to be places at certain times looking certain ways in order to make the money needed to make those payments. However, many people have built Earthships themselves and ended up with little to no mortgage payment. They also have little or no utility bills and their ability to grow food year-round inside the Earthship has greatly affected what they have to spend on packaged, processed foods.
The condition of our planet tells us we must now begin to take responsibility for what happens beyond the reach of our fingertips. We must begin to reconsider the source of these utilities, our access to them, and how we dispose of the waste produced. The mechanical systems of the Earthship confront these issues directly. We call this direct living. Source, access and destination are all contained within the Earthship, within the reach of our fingertips. There is no mystery involved in Earthship electricity. There is no unknown source of water. There is no magical black hole that sucks up all our sewage. Instead, we work in harmony with the earth to deal with these issues - taking what it has to give us directly and giving back what it wants to receive. With this harmony ringing in our minds we evolve the Earthship Systems.