Post by mightyspuds on Nov 1, 2007 13:02:47 GMT -8
LINK TO USER REVIEW
The 8.1 cubic foot solar powered freezer....
============================================
Solar DC and cool with solar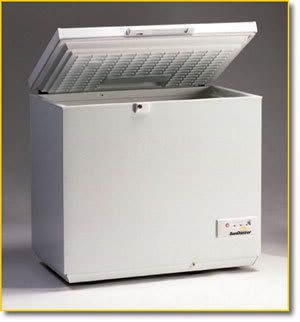 SunDanzer Refrigerators and FreezersInformation about SunDanzer ProductsNews About SunDanzer RefrigeratorsWhere To Buy SunDanzer FreezersContact SunDanzer
Features for All SunDanzer Models:
• Energy-efficient
• Automatic operation
• Thick polyurethane insulation
• Lockable lid
• Interior light
• Corrosion resistant coated steel exterior
• Patented low-frost system
• Easy to clean interior
• Low maintenance
Energy Efficient Refrigeration
DCR/DCF Series Battery-Powered Units
Babel Fish Translation
Save on system costs with SunDanzer battery-powered solar refrigerators and freezers. These highly efficient units with exceptionally low energy consumption require a smaller photovoltaic (PV) system for your refrigeration needs.SunDanzer units feature 4.33" (110 mm) of polyurethane insulation and coated steel cabinets. The brushless DC motor compressor operates on 12 or 24 VDC. A patented low-frost system reduces frost build-up for low maintenance.
SunDanzer chest-style refrigerators and freezers are easy to clean using the drain hole at the bottom of the unit. With thick insulation and a refrigeration system optimized for solar, SunDanzer refrigerators and freezers provide outstanding economical and reliable operation. SunDanzer cabinets are commercially produced by one of the world's leading appliance manufacturers.
DCR/DCF General Specifications
• Voltage requirement: 12 or 24 VDC
• Refrigerant: R-134a
• Polyurethane insulation: 11 cm (4.33")
• Cable length: 2m (6 ft.)
Happy Customers!
Happy Customers: Click on the smiling sun to share your pictures or comments about your SunDanzer refrigerator or freezer!
SunDanzer
11135 Dyer Ste. C, El Paso, TX 79934, USA +1 915.821.0042 FAX +1 775.201.0236
For more information, use the CONTACT US button above
or send us an email.
All text and images © 2002
Original Web Design and Illustration by Jeffrey Fahey
Additional Web Design and Development by Alden Taylor