Post by mightyspuds on Sept 27, 2007 12:49:18 GMT -8
Link to Pioneer Maid
Pioneer Maid
Low cost, controlled burn Amish-made Cookstoves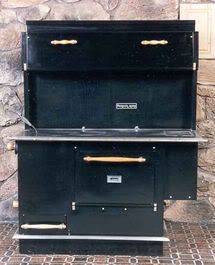 Amish tinkerer and machinist Mark Stoll is never satisfied with things the way they are. A lifetime of wood burning experience led him to view old-fashioned cookstoves, with their tiny fireboxes as impractical dinosaurs. Mr. Stoll re-engineered his ranges from the ground up. His Pioneer Maid stove was the first North American cookstove to take advantage of the improved performance that controlled combustion design brings. Today, many other wood cookstoves feature controlled combustion, but Stoll's unconventional ranges are still an exceptional investment.
Use it once and you'll think it's huge. Cooktop is 6% larger, oven is 20% larger and its firebox is 75% larger than any other stove in our catalog. Porcelain finish for easy clean-up. Stainless steel oven with porcelain-lined bottom. Top-loading through the oversized 11" diameter lid. Optional stainless steel reservoir holds 11 gallons. Optional porcelain-lined 10" x 10" warming closet installs above cooktop and keeps food warm or herbs dry.
* Controlled Combustion - Precise control of firebox temperatures and extended, overnight burns. Big, fist-sized knobs stay cool to the touch. Easy Loading-Large fireboxes are a Pioneer hallmark. The Maid's is the largest in our catalog. This stove easily handles irregularly shaped or unsplit wood. Easily heats small or average-sized homes.
* Durable, Simplified Design - Traditional cookstoves are screwed together from sheet metal panels. Pioneer cookstoves are reinforced with welded steel. Many parts (50% of the Maid's body by weight) are stainless steel. One-piece steel (not stainless) top with two lids for access, firebrick-lined firebox, unique dump grate system.
* Amish Farmer Practicality - If you want nostalgic design, world class appearance or a nice finish, this is not your stove. Pioneer ranges are built for function, not form. They are assembled in a farmer's backyard, after all. Like most things on a farm, how it works means much more than how it looks. Customers who buy this stove are usually happy with its performance but often complain about nonaligned seams and rough finishes that may show weld spatter. (For example, the air controls work well but wobble when you turn them.) Tested to UL standards, two-year warranty.
Note: Unlike most stoves, even though they are tested to UL standards, they need floor protection ¾" thick that extends to the front and sides an additional 18"
Note: The cook stoves will ship by semi truck to a freight terminal near your home. The freight is $225.00 and is prepaid when the order is placed.
Cost- 2100.00 to 2400.00 USD
===================================
Link to User Review