Post by mightyspuds on Oct 2, 2007 6:13:21 GMT -8
What is an Earthship?
Read article for full story
thunderbay.indymedia.org/news/2004/02/11949.php?theme=2
"Imagine... living in a home that cost you nothing to heat or cool ... building this home yourself ... growing your own vegetables year round in this home - .. no utility bills ... easily available "limitless natural resources" to build this type of home - Imagine... a more earth friendly civilization - Imagine... EARTHSHIPS" -Earthship Biotecture, website of original Earthship designer Michael Reynolds
The basis of design for these passive-solar self-heating homes requires the entire southern wall to be made up of windows. Typically the houses are much longer than they are wide, so that all or most of the rooms are open to the south. As the sun shines in, it not only heats the house immediately, but the thick earthen walls absorb enough heat to maintain a temperature no cooler than 15 C in it's absence, even in -30 C climates! The Guinness book of World Records lists Earthships as the most energy efficient homes in the world.
Chuck describes conventional houses as "insulated iceboxes that need a constant supply of heat". The Potters have no heat source besides the sun, only a wood stove used for cooking that contributes minimally to the overall heat, but is nice to huddle around on cooler evenings and can be used as back-up in case of a long cloudy period.
In the summer time the house remains cool as the sun stays higher in the sky so that less direct sunlight enters the windows. The thick walls again provide insulation but this time in order to keep the cold air in. Typically the north side of Earthships are buried into a hill for added insulation, providing the same underground cool as a basement, but without the darkness due to the brightly lit southern side.
Blinds are another simple device that can be used to help moderate the amount of sunlight/heat in the summer and further insulate again the cold when the sun is down in the winter. Even without blinds the temperature of the Potter's house is well regulated, but the addition of blinds will boost its efficiency even further and is slated as their next major purchase.
Tire houses are designed to have fully functioning plumbing without depending on a septic tank or city sewage system. All waste products are completely recycled so there is no disposal in soil or water anywhere. This is accomplished through dry compost toilets and greywater systems.
Dry compost toilets break down human waste odourlessly into nutrient rich hummus that can fertilize your garden. This can be done with the an extremely efficient species of worm known as the Red Worm (Lumbricus rubellus), or as the Potters have done, simply by purchasing a commercial compost toilet which mixes the waste with a dry organic material such as peat moss so that it breaks down quickly.
The greywater system fits into an Earthship's design as a greenhouse style garden running along the south windows. Waste water from the shower and sinks is run straight into the soil and is purified by plants, then further filtered though layers of gravel and pebbles. Water can then be pumped back as fresh washing water, although in the Potter's case it is just used to feed the garden.
Greywater plants range from tropical flowers to hearty vegetables and almost anything can be produced in any climate. The Potters' greywater garden is currently filled with Jasmine, Palm trees, Geraniums, Vines, Avocado trees, Parsley, Sage, Rosemary, and Thyme. They have had success with many other plants including tomatoes, beans, potatoes, and carrots.
All electricity, which the Potters are very conscious about conserving, is produced by solar panels. Lighting is only needed once the sun has set and they use minimal appliances. With a little creativity, there are even ways around high energy consuming appliances such as refrigerators. The Potters designed a fridge constructed out of an old motorless freezer that operates solely on air exchange. A small, solar-powered fan brings in cool night air while a top vent lets the warmer air escape. This device does the trick from fall through spring, while an energy efficient solar refrigerator is needed for the hot summers.
Construction of this self-sustaining system is easier than one would think. A simple concrete slab is all that is required for a foundation. Tires are stacked and rammed full of the same earth dug out of the hill it is sited in. Pop cans may be added as filler. The final layer which completely covers all the tires and cans (preventing any toxins from ever penetrating) can be a cement or clay stucco. The Potters chose cement for its longer life, greater durability and easily mixed consistency, although some prefer a purist approach to the use of natural materials and stick with clay.
Pictures......
Front of house,note greenhouse windows.Newer homes are being built with vertical windows,slanted windows expensive and leak prone,didnt pay off with the extra solar gains vrs costs.
Using your grey water to feed your indoor plants.The water from the kitchen sink feeds this garden of Avocado, Palm, Jasmine and herbs.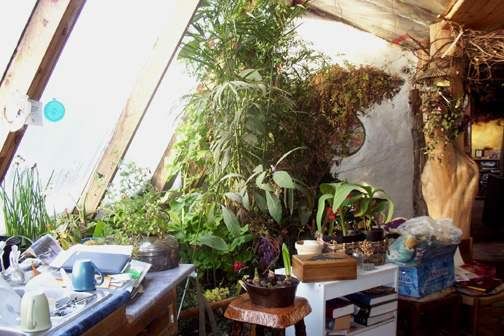 Earthship south facing greenhouse windows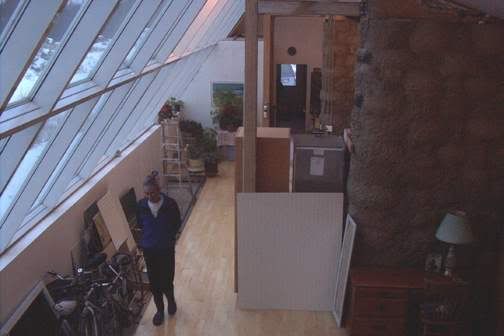 Earthship,note kitchen runs along south facing windows
------------------------------------------------------------
While you CAN make them of earth rammed filled tires,you can also use conventional materials,like brick,concrete and even wood.
The basic premise is a passively solar heated,earthcooled home,earthsheltered design.
Electric is to be generated on site.
The kitchen/ greenhouse feeds a year round indoor garden with waste greywater.
Some have indoor ponds for water storage or fish production.Some harvest rain water.
Its all about living and supporting life from your home.
Spuds