Post by mightyspuds on Sept 27, 2007 8:17:15 GMT -8
www.gorillavehicles.com/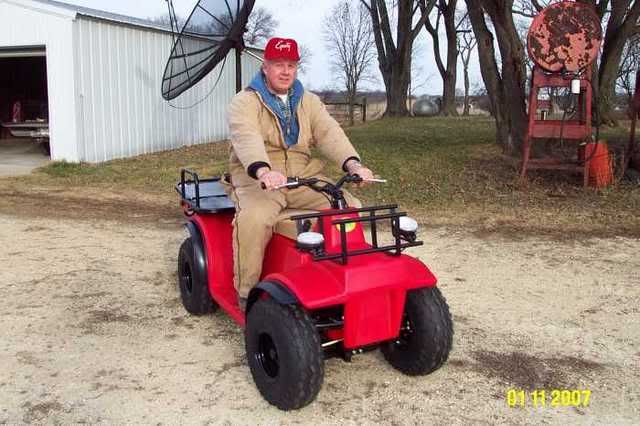 Retail Price*
Gorilla e-ATV 24TM Electric Work Vehicle
24 volt, 12-13 mph version.
Three 8-volt batteries and on-board charger included*
$6895.00
Gorilla e-ATV 36TM Electric Sport Vehicle
36 volt, 16-18 mph version.
Three 12-volt batteries and on-board charger included*
$6995.00
Gorilla Golf
24 volt, 12-13 mph version.
Three 8-volt batteries and on-board charger included*
Includes turf tires, white wheels, and the golf bag attachment.
$6995.00
Gorilla Performance:
Top Speed: e-ATV 24, 24 volt version: 12 to 14 Mph*
e-ATV 36, 36 volt version: 17 to 19 Mph*
* Varies with tire's rolling radius, and tire pressure.
Range:
24 volt vehicle:
25 to 35 miles with T-875, 8-volt batteries*
36 volt vehicle: 20 to 30 miles with 27TMH Group 27*
*(see discussion under 'batteries' below).
Turning Circle: 15 to 17 feet, depending on tires
the Gorilla turns within this circle - pretty tight
Hill Climbing Ability: 30 degrees + (less under load).
Caution Notes:
~ Extra care should be taken with loads, as they could shift.
~ Also, loads raise the center of gravity, which could cause instability and overturn.
~ Avoid negotiating inclines on angles. - GO STRAIGHT UP AND DOWN INCLINES.
Gorilla Dimensions:
Width: 30.5" to 34.8" (see tire table above)
Height: 37.5" to 39" depending on tires (to top of handlebars)
Length: 70" (the Long Bed adds 11" to this length)
Wheelbase: 49.5"
Front and Rear Track:
(tire center to tire center) 27.8" (with wide, offset wheels)
25.8" (with centered, narrow wheels)
Ground Clearance: 6" to 7.5" depending on tires
7"+ with turf or knobby tires - plenty !
Gorilla Mechanical Specifications:
Brakes: 6.3" cast iron drums on both rear wheels, self-adjusting, non-asbestos linings.
Dual levers on handlebars (motorcycle type),
either or both levers control both rear brakes.
Now with "REGEN" Braking ! read more
Parking Brake: Hand operated automotive lever type (locking ratchet) to rear wheels.
Front Suspension: Independent, unequal length control arms. Transverse leaf spring. Urethane bushings.
Rear Suspension: Live axle with leaf springs.
Frame: Welded space frame of steel tubing, powder coated.
Rear Differential: ~14.5:1 helical gears (hi-efficiency), double reduction, oil bath, completely sealed aluminum housing.
No belts, chains, adjustments, maintenance, or leaks.
Steering: Direct, with permanently lubed rod ends.
Wheels: 8" steel, welded and powder coated, 5.375" wide with 1" offset. (Narrow vehicle: 3.75" wide - centered.)
Wheel Bolt Pattern: 4 bolts on 4" bolt circle (1/2"-20 bolts, plated 3/4" hex-nuts).
Gorilla Electrical Specifications:
Electric Motor:
Traction type DC, SepEX (Separately Excited), heavy duty, "H-class" thermal rating, enclosed (for corrosion and foreign object protection).
Direct coupled (splined) to rear axle (no need for a clutch).
(24 volt system) 6.5 HPpeak horsepower (24 volt version) ~4000 RPM
(36 volt system) 8.5 HPpeak, (36 volt version), ~5000 RPM
That's about 375 foot-pounds of torque at the rear wheels.
Watts: That's about 5000, and 6500 watts respectively,
(compare to the 250 to 400 watt scooters and bicycles).
The Gorilla is not a toy.