Post by mightyspuds on Feb 2, 2008 18:15:40 GMT -8
Ceviche (also spelled as cebiche, seviche or cevice) is a form of citrus marinated seafood salad, popular in many Latin American countries.It isnt cooked but instead is pickled by the citrus juices.
In Mexico and Central America, it is served in cocktail cups with crackers, or as a tostada topping (How Mrs. Spuds likes it) and taco filling.It can also be eaten like a cold soup,my favorite way to eat it.
Shrimp, octopus, squid, tuna, and mackerel are popular bases for Mexican ceviche.Generally any firm white fish can be used.As can oysters and clams and mussels. The ingredients include salt, lemon, onion, chile, avocado, coriander, and parsley. Tomatoes are often added to the preparation.
en.wikipedia.org/wiki/Ceviche
--------------------------------------------------------
We will be using pollock,catfish chunks,shrimp,squid,octopus(calamari),oysters,tomatoes,cilantro (coriander flakes),onion slices and lime juice.After marinating overnight tomorrow we will add some tomato juice.We will slice fresh avocado onto it when served.
=============================================
wiki.answers.com/Q/What_is_the_chemical_reaction_with_lime_and_seafood_in_making_ceviche
One major difference, however, is that citric acid will not kill any parasites in the fish like heat will. Fortunately, most fish are parasite-free, as any sushi chef will tell you. So the rule of thumb is: if you are comfortable eating sushi or sashimi, go ahead and try ceviche. If you are not, don't. When in doubt, freeze the fish according to the following guidelines:

*

7 days at -4 F; or
*

15 hours at -31 F; or
*

Freeze to -31 F then store for 24 hours at -4 F or colder

These will kill the parasites, making the defrosted fish safe to be eaten raw or in the 'citric acid cooked' ceviche.
===================================
I forgot to mention to use frozen fish as most of what you buy is previously frozen anyhow or precooked and frozen.I dont eat any raw fish myself.
=========================================
Lets get started....
==========================
Your ingredients.....
Pollock on left,catfish on right.Cut into dime sized pieces...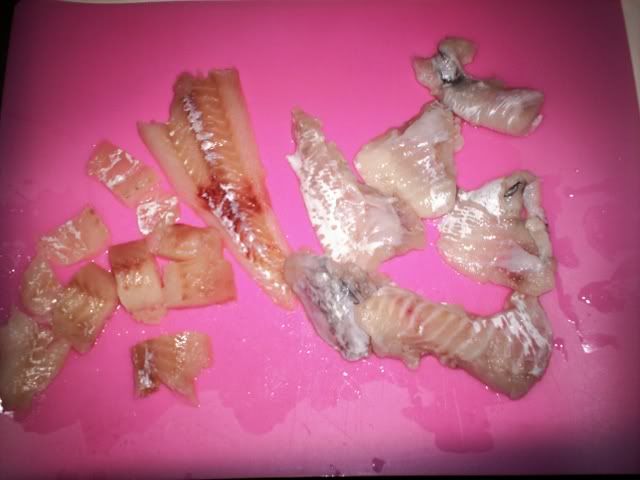 Drain your 2 15 ounce cans of mixed seafood (squid,calamari,and shrimp) and add to your large bowl...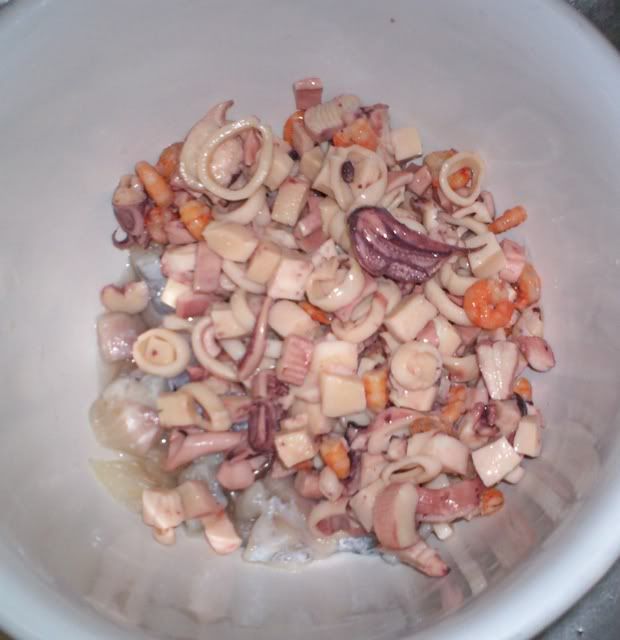 Drain 2 of your 8 ounce cans of oysters and add to rest.Not happy with those South Korean oysters,have a green tint but smell OK...
Add 8 ounces salad shrimp,cleaned and precooked is what I had.You can use uncooked shrimp too,just remove shells and clean...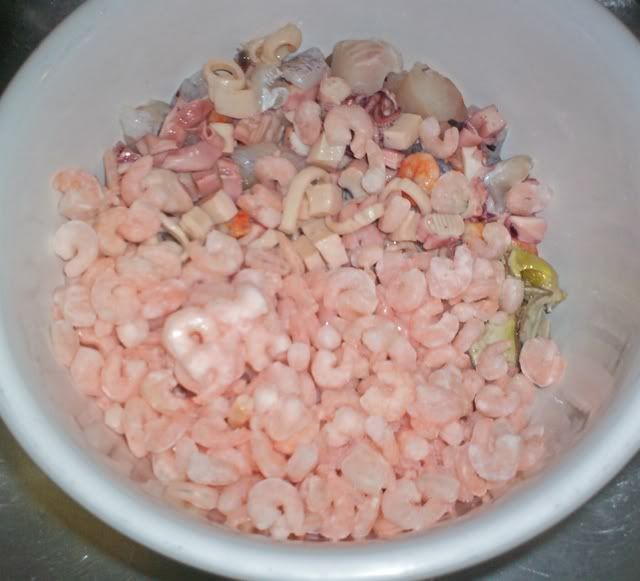 Add this much salt and 1/2 as much pepper...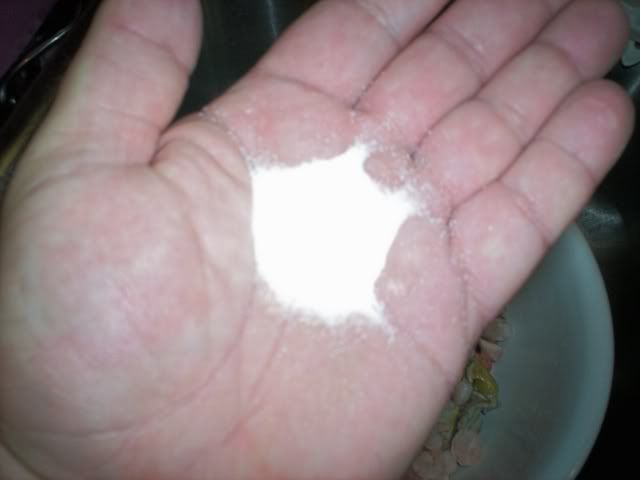 Add a little bit more than this of cilantro (coriander) flakes or chop up 2 bunches fresh cilantro (better)...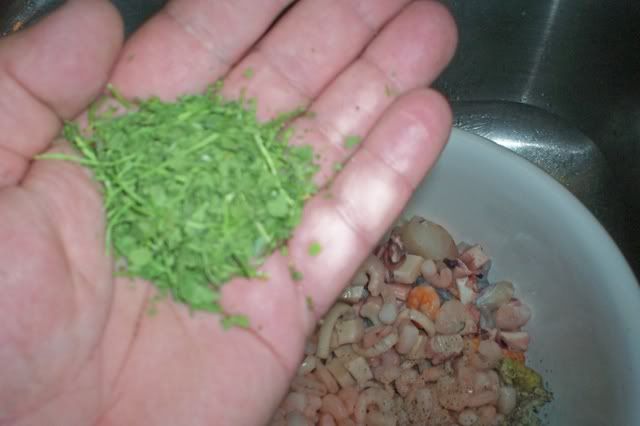 Dice 4 medium tomatoes and slice onion into thin slices,then quarter those and add to bowl.Add 16 ounces concentrated lime juice,enough to cover completely...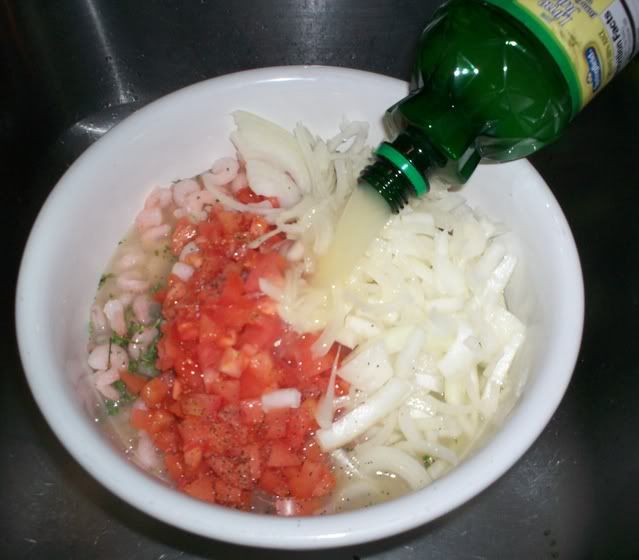 Gently mix ingredients with slotted spoon...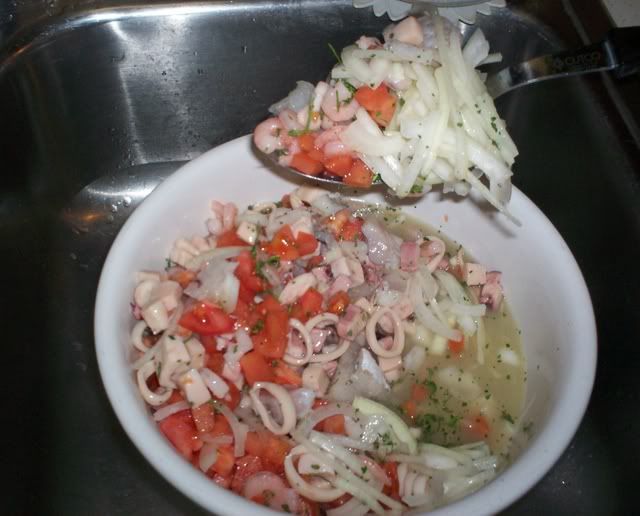 Make sure juice covers all,cover with Saran wrap and into refrigerator to marinate overnight...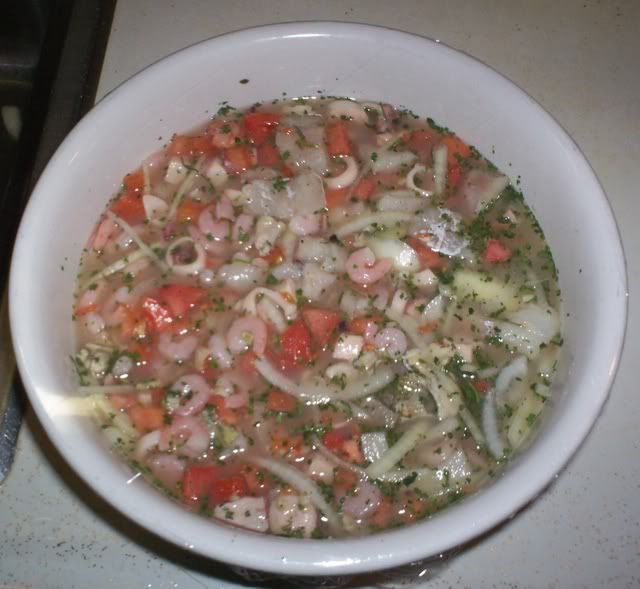 ======================================
This is 48 hours later.You could do this at 24 hours but I like the lime juice to do the cooking,then add the tomato juice...
Pour out all the lime juice...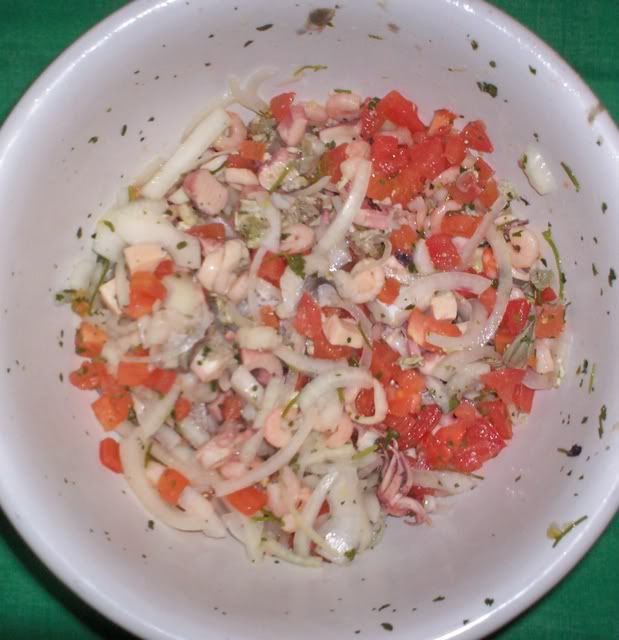 Add the tomato juice or tomato veggie juice...
Cover completely and lightly stir/mix...
Serve as a dip with tortilla chips...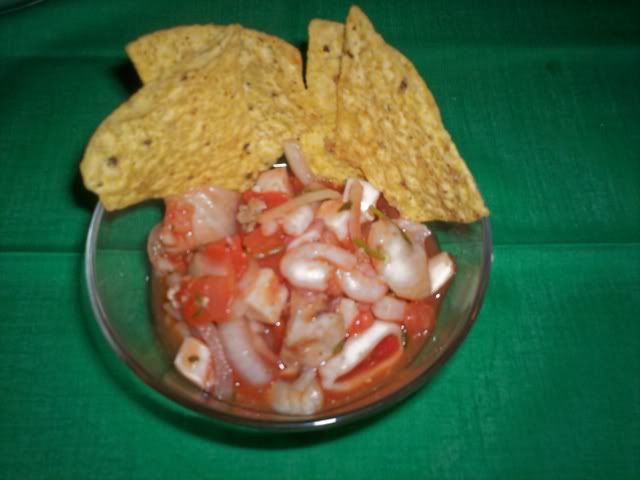 Or as civeche soup,YUMM! Cold seafood soup! Too bad my avocado wasnt ripe,the little green/yellow chunks make a pretty presentation,or a couple slices sticking up on inside of bowl, and also is fine flavor too. Avocado must go on fresh when served,it will not remain good in the bowl,yuch!
====================================
It will last up to 2 weeks covered in refrigerator.Best at one week.
The seafood will continue to pickle in the tomato juice.