Post by mightyspuds on Sept 27, 2007 9:35:52 GMT -8
What could be more important than clean, safe water?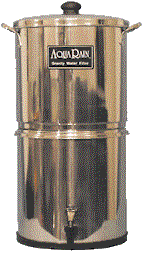 The AquaRain® Natural Water Filter will provide your family and loved ones with laboratory proven safe drinking water...without electricity, without plumbing, and without pressure or chemical pretreatments. Our patented space-age ceramic technology positively removes dangerous living organisms and harmful bacteria from your drinking water...naturally...using microfiltration and gravity. A dense and highly adsorptive carbon filter bed has been incorporated within the ceramic shell and sterile metallic silver added to maintain purity in the filter system. The attractive super-sanitary stainless steel housing is press-formed without seams or welds and has easy lift handles. A unique "splash guard" system insures safe drinking water in daily operation. Here is what may be the best part... the AquaRain® can produce quality drinking water for less than 2¢ per gallon!
High-Tech Ceramic Filter Elements
At the heart of our natural process micro-filter are patented high-tech ceramic filter elements specifically designed for the AquaRain® system. Our state-of-the-art ceramic elements filter water in a very natural way, using gravity to gently draw water down through our "cultured" ceramic stone in much the same manner as nature processes ground water through the earth. The microfine pore structure of our ceramic media will remove dangerous organisms such as protozoan cysts (Cryptosporidium, Giardia lamblia) and microscopic bacteria (E. coli, Salmonella typhimurium, etc...). Enclosed within the hard ceramic shell we have incorporated a concentrated bed of Granulated Activated Carbon (GAC) that contains a self-sterilizing metallic silver. The silvered GAC bed will adsorb various organic chemicals such as MTBE and pesticides, remove chlorine compounds including carcinogenic halogens, and improve the taste and odor of the water. To the benefit of good health, our system will also leave unchanged the naturally occurring electrolytes and minerals in your filtered water.
You can depend on the proven technology used in the AquaRain® and even the natural concept that it relies upon to produce safe drinking water for your family. The AquaRain® Natural Water Filter is manufactured to meet stringent NSF standards and fully achieves the USEPA requirements of a Cyst and Bacteria Water Purifier. Best of all, the AquaRain® is made with loving care right here in the USA with American Innovation and American Technology!
AquaRain Model 400 Water Filter
$239.99
Link to User Review